Categories >
Guides and Tips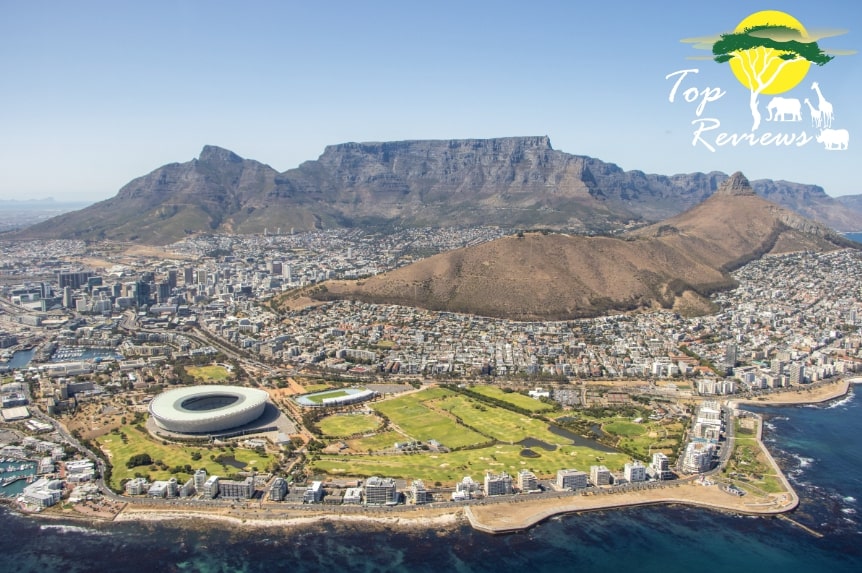 Discovering the Wonders of Table Mountain
When you think about Cape Town (row 1061, What do I need to know before going to Cape Town South Africa?), you'll probably think about this uniquely-shaped marvellous mountain that overlooks the city. That's right, Table Mountain.
This mountain stands about 1,086 meters tall and is one of the most iconic landmarks in South Africa. It's also Cape Town's pride and is the most visited national park in the country.
In fact, over a million visitors are drawn to this iconic destination annually. But what makes Table Mountain so special?
Getting to Know the Majestic Table Mountain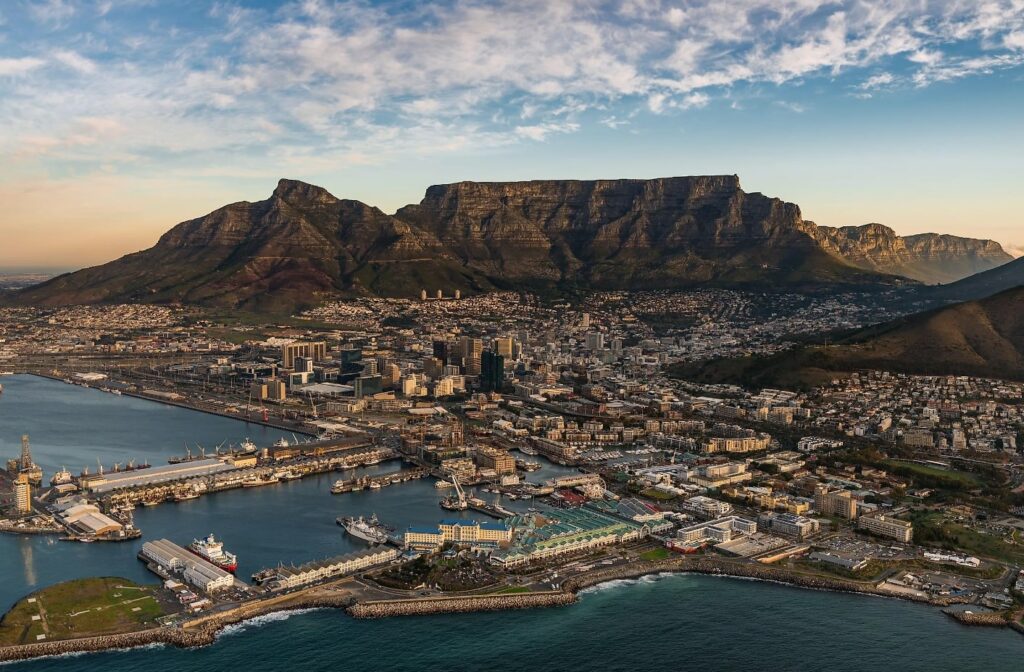 Let's get to know Table Mountain better! This incredible natural wonder has been around for a whopping 600 million years.
In fact, it's actually known to be one of the oldest mountains in the world.
You'll also find here abundant and unique fauna and flora, including fynbos, a unique vegetation type found only in the Cape Floral Kingdom.
But here's where it gets even more captivating! Table Mountain holds a special place in the hearts of the indigenous Khoi-San people. They were the original inhabitants of the Cape region long before Europeans arrived on the scene.
For them, this mountain was no ordinary rock formation. They considered it a sacred site, believing it brimmed with spiritual energy and even served as a dwelling place for their gods.
What makes Table Mountain special?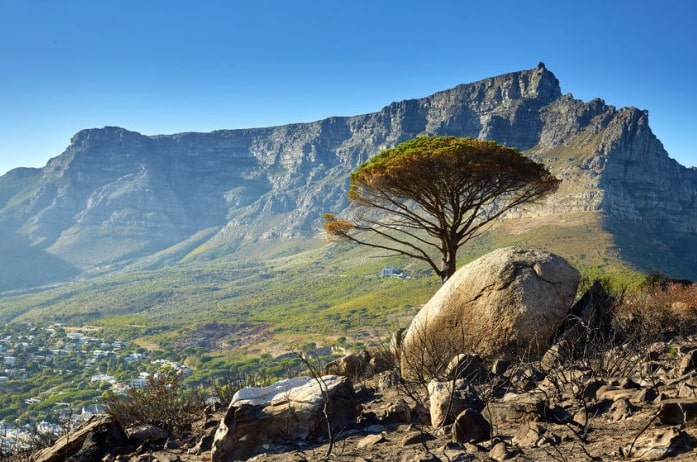 Table Mountain is a recognised natural wonder as identified by UNESCO in 2011. This title was bestowed upon this landmark for its unique beauty and cultural importance to South Africa.
This flat-topped mountain homes a wide variety of plant and animal life, making it a hotspot for research.
On top of that, Table Mountain is also a magnet for tourism and is a popular destination for hiking, climbing, and other outdoor activities.
Things To Do at Table Mountain
Table Mountain in Cape Town has a variety of activities and attractions to suit a variety of interests and tastes, which is why it never goes out of style. Here are some you can try out:
1. Go hiking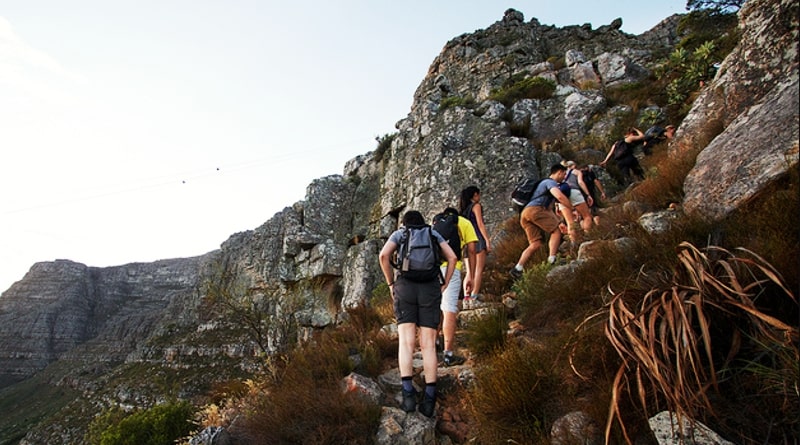 With its towering peaks, diverse trails, and stunning vistas, Table Mountain is a paradise for outdoor enthusiasts and nature lovers. Hiking (row 1088, Overnight hiking trails Western Cape) the mountain is a great way to experience its beauty and the surrounding area.
There are 5 official hiking trails in Table Mountain National Park:

Platteklip Gorge Trail
Skeleton Gorge Trail
India Venster Trail
Kasteelspoort Trail
Diagonal Trail
Each trail has a different route and difficulty level.
Pro tip:

• If you're a beginner, we suggest taking the Platteklip Gorge Trail, which is the most popular trail. It's also the shortest and most direct route to the top of the mountain. 
The other trails are longer and more challenging, but they offer more scenic views.
2. Ride an aerial cableway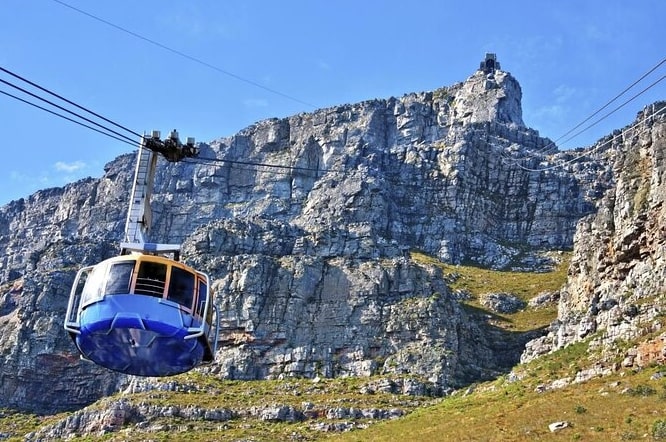 If you're not much into breaking a sweat, you can just opt to hop on the aerial cableway as a convenient and scenic way to reach the summit.
The cable car ride provides panoramic views of Cape Town, the Atlantic Ocean, and the Cape of Good Hope, making it a must-try experience for visitors.
The ride to the top of the mountain takes about five minutes but once you get there, you'll be treated to a breathtaking sight. It's worth it, we promise!

Pro tip:

• Make sure to buy your tickets in advance to avoid the lines. We also suggest arriving early in the morning when there are fewer crowds.
3. Try abseiling
If you're a thrill-seeker looking for an unforgettable experience, you can try abseiling. You'll start at the top of the mountain, and you'll abseil down a cliff face that's about 100 metres high.
The whole experience takes about 30 minutes and the ropes are controlled, so you don't worry about falling. While this activity is generally safe, it's important to follow the safety instructions provided by your guide.
You'll be provided with a harness, helmet, and gloves, and you'll be instructed on how to use the safety equipment. Make sure to pay attention and enjoy the adrenaline rush!
Pro tip:

• Remember to wear closed-toe shoes with good grip and comfortable clothing that allows for easy movement.
4. Go rock climbing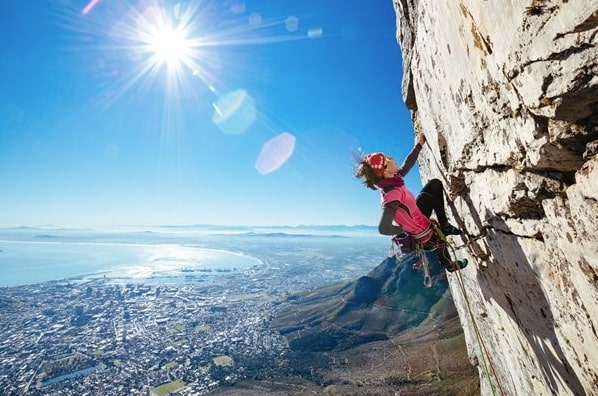 Table Mountain also offers a range of rock climbing routes catering to various skill levels. Some of the more popular routes include Arrow Final, Jacob's Ladder, and Africa Ledge.

Before you head out on this adventure, make sure to carefully research the routes beforehand and choose one that aligns with your climbing abilities. Take note that rock climbing on Table Mountain requires experience, knowledge, and skill.
If you're a beginner, we recommend climbing with an experienced guide or joining a climbing tour led by certified professionals. They can provide guidance and knowledge of the area, and ensure safety protocols are followed.
Pro tip:

• Rock climbing permits may be required in some parts of Table Mountain. Before your climb, check with the appropriate authorities, such as South African National Parks (SANParks), for information on the necessary authorisation needs and access limitations.
5. Go on a nature/photography walk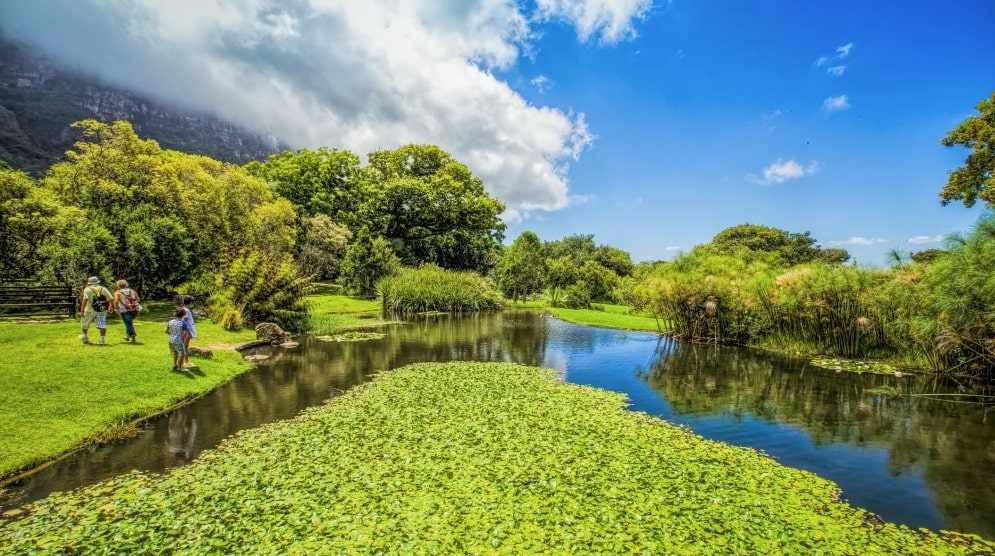 If you want to take it slow and really take in Table Mountain's beauty, you can just chill and take a short nature walk.
Table Mountain offers several nature trails that provide a more relaxed way to appreciate the mountain's natural beauty. These walks allow you to explore the flora, encounter wildlife, and enjoy the tranquillity of the surroundings.
For photography enthusiasts, you can capture stunning shots of the mountain, Cape Town, and the ocean from various viewpoints along the trails too!
Pro tip:

• We suggest taking a guided tour if you're new to nature or photography walks. These tours will teach you about the plants and animals that you'll see, and they will also help you to get the best photos.
FAQs on Table Mountain
---